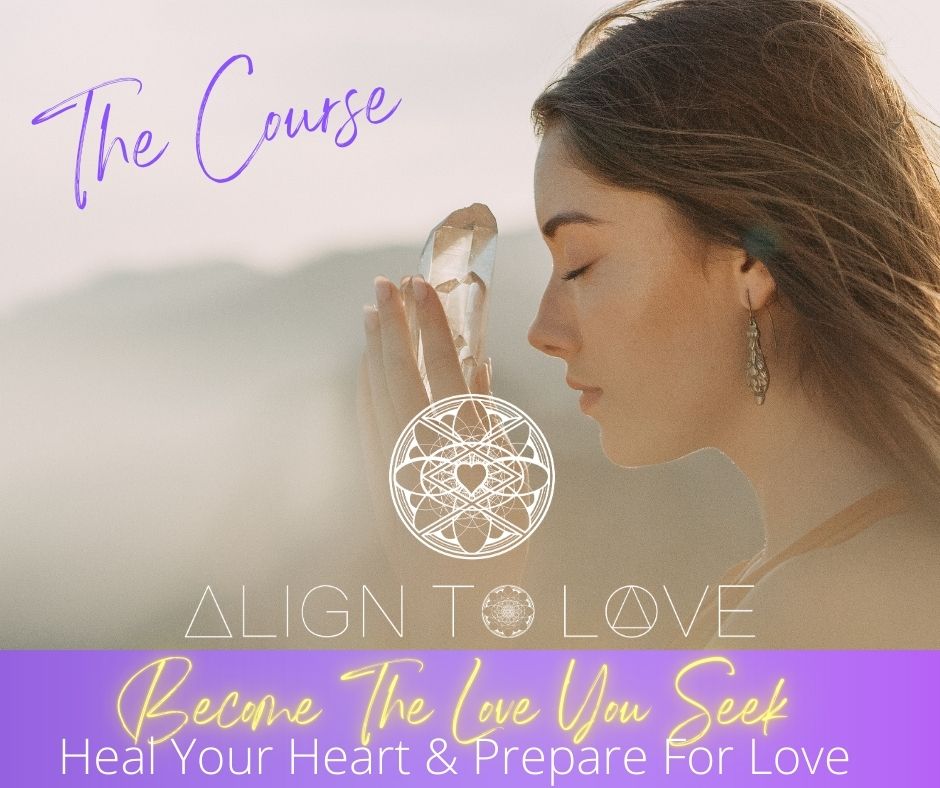 Finally Release What's Been Blocking You From Love
Date with more joy, ease and inner peace.
Here's What you'll get when you join the
ALIGN TO LOVE Course

The Ultimate Heart Healing Course That Prepares You for Love So You  Can Become Magnetic To Your Soulmate
Release Conscious and Unconscious Internal Programs and Beliefs That May Be Sabotaging Your Love Life
Learn to Love As Your Soul
Live with More Trust and Open Your Heart
Date intuitively with more ease and joy
Prepare to Meet Your Soulmate!
Intuitive and easy to implement Video Love Lessons led by Spiritual Teacher, Hayley Felton and featuring Guest Experts;  Tanya Obeng, The Communications Doctor, Gemma Hearn, Yogini and Joanne Lee Philpot (Divine Life Yogini)
From the comfort of your own home you will release conscious and/or unconscious internal programs and beliefs that may be sabotaging your Love Life.
You will learn to Love as Your Soul!
You will live with more trust and open your Heart, so you can date intuitively and attract your most compatible Soulmate.
This course is suitable for anyone looking for love, regardless of gender identity or sexual orientation.  
Powerful and healing supportive meditations have been channelled by Hayley Felton to support and empower your ALIGN TO LOVE journey.
Learning RESOURCES & Lifetime Access
You will have lifetime access to the course content and resources to support you.  
This on-line course is accessible from your laptop/pc/ipad or smart phone.
Module #1 - Release, Heal and Transform
Love Lesson 1: Transform Limiting Beliefs
Love Lesson 2: Release and heal the past
Resource:  Clearing Pathways To Love Meditation
Module #2 - Authenticity and Relationship Clarity
Love Lesson #1:  Self Acceptance and Authenticity with Tanya Obeng AKA The Communications Doctor
Love Lesson 2:  Relationship Clarity – Your ALIGN TO LOVE Map
Module #3 - Love Thyself
Love Lesson 1:  Self Love = Soul Love
Love Lesson 2:  Affirm Your Power
Module #4 - Empowered Gratitude
Love Lesson 1:  Empowered Gratitude
Love Lesson 2:  Heart Opening Yoga with Gemma Hearn
Module #5 - Magnetic To Love
Love Lesson 1:  Home Is Where The Heart Is
Love Lesson 2:  Love Magnet
Module #6 - Becoming A Vibrational Match
Love Lesson 1:  Your Love Account
Love Lesson 2:  Raise Your Vibration with Joanne Lee Philpot AKA The Divine Life Yogini
Module #7 - Preparing For Your Soulmate
Love Lesson 1:  Creating Time and Space
Love Lesson 2:  Being The Right Person
Module #8 - Soul Aligned Dating
Love Lesson 1:  Soul Aligned / Intuitive Dating
Love Lesson 2:  Bright and Beautiful You with Colour and Style Expert, Claire Bannister
 Just watching some of the Video Love Lessons felt very deep and powerful which although at times felt challenging, I could feel inner healing and profound changes taking place within me.
I  made the first move with two lovely guys I met which I wouldn't have had the confidence to do before!  
The Align To Love Course is awesome!
"I was single for many many years…The course enabled me to create a really powerful relationship…I was previously attracting the wrong kinds of relationships which didn't allow me to grow as a person.
 And in my relationship now I can express myself clearly and it now feels really easy which is really lovely!   This course had such a natural flow, I especially loved the healing meditations and was so supportive in so many areas of my life, not just relationships.  
I shifted the relationship to myself in a really big way, got clear on the kind of relationship I wanted and how I wanted to be in relationships. 
If you're on the fence about joining, don't hesitate!" 
Hayley's Align to Love programme was a really supportive process for me in exploring what I want from new relationships in my life. It enabled me to challenge some of my deep-seated beliefs about myself, to build my self-esteem and to begin to create a more joyful life for myself.
Sign Up Today:  £199 / £70 x 3 mon
ths
Hi, my name is Hayley Felton
Healer and Spiritual Teacher
The good news is that I've been in your shoes.  I understand your situation and how lonely and frustrating it can feel at times!
One of my passions is to guide you through the process of healing your heart so you can prepare for love and begin a more joyful journey towards meeting your Soulmate!  Many moons ago now, in my twenties I won a reality TV series called Around The World in 80 Dates.  I was really 'good' at dating but was consistently attracting men who were not committed or I would self sabotage budding relationships.
If you are open to a more effortless, spiritual approach to finding love then ALIGN TO LOVE is the ideal solution you've been waiting for!
For years I thought I was never going to find love, but through a combination of self discovery, spiritual development, self healing and working with other Spiritual Teachers I healed my own heart and have been happily in a loving long-term committed soulmate relationship for many years.
ALIGN TO LOVE is a beautiful self-healing and study programme which I put my own Heart and Soul into creating.  It's accessible from the comfort of your own home so you can learn, heal and shift at your own pace and is suitable for anyone, regardless of gender identity or sexual orientation.
ALIGN TO LOVE will support you to heal from the inside out, so you'll not only fall in love with yourself but will also cultivate greater trust in yourself to make decisions and take actions aligned to your Higher Self and towards the relationship of your Heart's Desire.
Sign Up Today:  £199 / £70 x 3 mon
ths